Posted by Mary-Lisa on 6 June 2020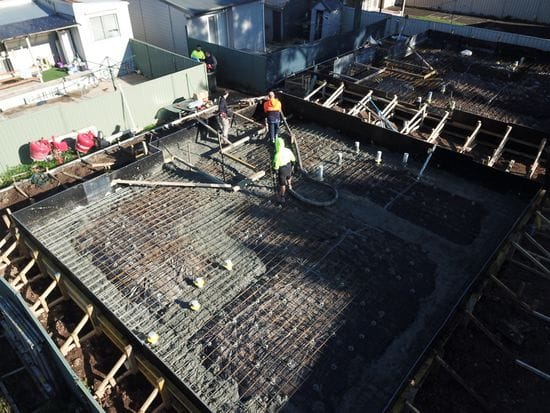 At Master Granny Flats, aside from our easy contract and design process and friendly staff, our concrete raft slabs are the best on the market. We never compromise on quality, our slabs are a testament to this.

We are meticulous in our work to ensure the longevity of the structure, which holds a lifetime guarantee. We have a trained in-house team whose sole job is to ensure consistent, durable, and safe concrete raft slabs for all our clients.

This is how we pour and perfect a raft concrete slab.
Step 1 | Set Out
A surveyor sets out the outer boundaries of the proposed dwelling using surveying equipment.

The slab team then checks the set-out points completed by the surveyor, to ensure the proposed dwelling is constructed in the correct location on the site.
Step 2 | Excavation and Formwork
We commence this stage by excavating the footings around the perimeter as well as the internal footings of the structure using the surveyor's marks. The footings are dug at a minimum of 300mmx300mm. The size of the footings is determined by the structural engineer.
Once the footings have been dug, formwork stage commences which involves plywood being laid against the edge of the footing, creating the permitter of the structure. The plywood is braced by timber as it is being laid, creating an outer support.
Step 3 | Damp proof membrane
Our team then place a black plastic sheet into the footings and all over the ground under the slab.
The edges of the sheets of black plastic have to be lapped and taped because the plastic stops the ground sucking moisture out of the wet concrete before it cures. It also helps stop moisture rising out of the ground and through the concrete.
Step 4 | Steel reinforcement
The foundations and slab are reinforced with steel bars and mesh. The thickness of the steel and mesh is determined by the structural engineer.

The steel bars and mesh need to maintain a cover off the ground which is also determined by the structural engineer. The cover distance is based on the soil type on that particular site.
Step 5 | Pouring the slab
We then pour concrete into all the footings and the slab using concrete trucks and concrete pumps.

The concrete is vibrated as it is being poured to ensure there are no air pockets. The concrete is then smoothed and levelled using a screeding tool and a laser throughout the pour process.

A bull float is used upon completion to raise any excess water to the top layer of concrete and level any imperfections on the visible layer of the slab.

The concrete is then left to dry, which is called curing.
Step 6 | Stripping the slab
The formwork is removed off the edges of the slab and footings.

The concrete raft slab is now complete!